« Happy Birthday Chloe | Main | Friday PieDay Week 2 - Lemon Meringue »
April 01, 2011
April Fools and 52 Weeks of Pie
It has been so long since I used this blog. Life happened and time passed, and none of it seemed very entertaining or blog worthy.
BUT




TODAY is a NEW DAY!
Speaking of a new day, today is April first, often referred to as April Fool's Day. Last year my dear uncle who never ceases to entertain and amaze me with interesting factoids, explained the origin of April Fool's, as he had read it in one of his papers. The story goes...
In about 45 BC, Julius Caesar created the Julian Calendar. April 1st was the beginning of the year on this calendar. In the late 1500's along came Pope Gregory. He found flaws with the Julian Calendar and made the calendar we use today, know as the Gregorian Calendar. The Gregorian Calendar would change the first day of the year to January 1st. As with all change, some people were agreeable, while others resisted. The ones who resisted and insisted that beginning of their year would remain April 1st, were called the April Fools by those who went along with the change.
I've been looking for a project to do with Khi. He enjoys cooking, so we've chosen to embark on 52 weeks of pie. The plan is we will make a different pie every week for a year. Friday will be pieday. We'll post pictures and recipes on this blog. This time next year we will have either completed a fun long term project, or we could have been the April Fools!!!
Since we just decided this on Wednesday, we didn't have much time to plan. So our first entry will be simple chocolate pudding graham cracker crust pie.
Ingredients:
- 3 boxes of your favorite chocolate pudding mix
- 2 prepared Graham Cracker pie crusts
- whipped cream for topping
Prepare pudding according to instructions on box
Divide pudding into the 2 Graham Cracker crusts
Chill until firm.
Decorate with whipped cream or let everyone put it on their own piece.
Enjoy!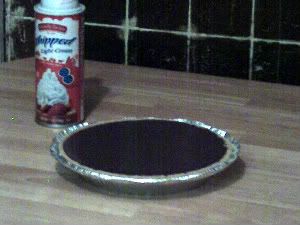 alt="Photobucket">
Posted by Angi at April 1, 2011 08:03 PM