« July 2004 | Main | September 2004 »
August 20, 2004
A Little Humor for the New School Year
The children had all been photographed, and the teacher was trying to persuade them each to buy a copy of the group picture.
"Just think how nice it will be to look at it when you are all grown up and say, 'There's Jennifer, she's a lawyer,' or 'That's Michael, He's a doctor.'
A small voice at the back of the room rang out, "And there's the teacher, She's dead. "
Happy Week End!
Posted by Angi at 11:39 PM | Comments (0)
August 17, 2004
Book Reviews
Today I received a copy of Nicky Epstein's Knitting for Your Home in the mail. It caught my eye because I have Knitted Embellishments by the same author. IMNSHO Knitted Embellishments is a much more likely to be used book. The afghans in Knitting for Your Home are eye candy, but more time comsuming than I am willing to give to a project.
Besides, I don't want a new afghan. I have the ones my Sainted Grandmother spent hours crocheting for me. She was from Kentucky and called them Africans. Before she died she had crocheted one for each of her 18 family members. Wrapping in one still feels like a warm hug from Grandma.
I began reading Debbie Macomber's new book The Shop on Blossom Street. It was suggested in one of the latest knitting magazines. I don't remember which one. It promises to be about friends in a knitting shop. So far the character development is really good but the book is just depressing. We'll see.
Thank you for all the advice about blog spam. We followed everyone's suggestions and it seem to be cleared up.
Posted by Angi at 10:09 PM | Comments (3)
August 14, 2004
Blog Spam
Can someone please tell me why the spammers put junk on our blogs? The part I really don't get is where they put it. I could understand if they put it as comments to current entries, where people may actually see it. But every morning I have at least 1 e-mail saying a spammer has posted a comment to my blog, for an entry I posted months ago. Does this happen to everyone else too?
Posted by Angi at 10:47 AM | Comments (4)
August 12, 2004
Autumn in August
The calendar says today is August 12. The weather outside is more like the end of September. Today at noon it was 51F!!!!! My favorite season is autumn so this unexpected cool blast is extremely welcome at Casa de Doula!
It has been a happy couple of weeks here. Justin is home from the camp he was working at. We all miss him when he's gone but Khi is his Mini Me and misses him the most.
Kaity got a new bike. Her Dad, who has the patience of Job, is helping her learn to ride!
I'm knitting an afghan square for a friend who is ill. I'm basing it on the Embossed Stitch heart in Nicky Epstein's Knitted Embellishments.
I'm off to knit on my porch swing and enjoy my little blast of autumn!
Posted by Angi at 04:43 PM | Comments (1)
August 03, 2004
Interweave Knits
As I've said before, I live somewhere on the Ohio river about 1/2 way between "Deliverance" and "Feed the Children". We have no local fiber stores. I know no other local spinners. The only other local knitter I know uses an ISM and Ackrillic yarn from Wal-Mart.
Imagine my surprise and excitement today when, while shopping at our local Kroger, I came across a current issue of Interweave Knits!
My sweet Benny was hurried to the check out, and out to the van. I couldn't wait! This is my favorite issue of the year ~ FALL! The issue of promise. The heat will end. The sunshine filled evenings till 10:00 will fade and we will once again need to wrap ourselves in the sweaters, shawls, and scarves of the Fall issue!
For the most part, IK lived up to the promise. Benny struggled to keep his eyes on the road between bursts of, "Oooo look at this!" and "What do you think of that one?"
Then, we came upon page 90 and the coolest knitted chair I've seen. We decided I should knit it. It's actually a cover for an, "inexpensive contemporary chair from Ikea". So, here's the rub. Ikea doesn't show any such chair on their website. All of our hopes were dashed in a simple mouse click.
Suddenly, the Interweave Knits of Fall lost all of it's promise. We are once again relegated to the seemingly endless heat of summer.
Posted by Angi at 08:47 PM | Comments (1)
Yea!
The Weather Pixie Came Back!!!
Posted by Angi at 08:26 PM | Comments (0)
August 01, 2004
What Country Are You?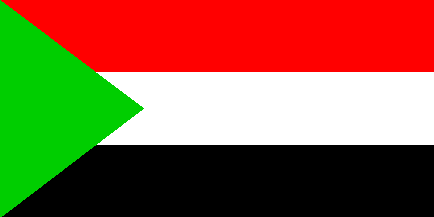 You're Sudan!
Every time you get a headache, you reach for some aspirin, only to realize that someone destroyed it. That's just how things are going for you right now... it's hard to eat, hard to sleep, hard to not have a headache. You try to relax, but people always jump on you about something that doesn't make sense. If you were a goat, you'd be a Nubian.
Take the Country Quiz at the Blue Pyramid
Wow! I'm not sure I like the country I got (I tried twice with the same results), but ~ If the description fits (and unfortunately it does) I guess I'll have to wear it!
Posted by Angi at 02:45 PM | Comments (1)
Weather Pixie?
Where's the Weather Pixie? Anybody know if she's gone forever or just on vacation?
Posted by Angi at 08:28 AM | Comments (0)